7+ Creative Fairy Lights Bedroom Ideas
Looking for fairy lights bedroom ideas? 
Add a touch of coziness and festive feeling year round with some beautiful warm fairy lights. You don't have to wait till December to add this special and stylish atmosphere to your home when you use fairy lights.
Fairy lights could be found at a reasonable price and can be used in countless ways.
Depending on your preferences and taste, they can add a light accent or take a central place in the interior of your bedroom and home in general. 
You can get inspired by a few ideas below on how to create a cozy and welcoming atmosphere in your bedroom.
Fairy Light Bedroom Ideas
Wrap them around a large mirror to create a bit of sparkle and reflection in the mirror

Place a string of fairy lights in a glass bowl or mason jar and use it as a night lamp

Add fairy lights to your bedroom shelves to create a beautiful and soft light accent for the room

Wrap them around the headboard of your bed as an alternative to night lamp

Got some large plants? You can decorate those with fairy lights too!

 
More Ideas for Fairy Lights in Bedroom
Add a Touch of Magic to Your Bedroom Stands
Use our famous Fairy Light tree instead of a night lamp on night stands in your bedroom. It will add a touch of magic on your dressing table.
Plus, you can use it also as a jewelry stand. 
Fairy Light Bedroom Photo Clips Wall
If you have an empty wall in your bedroom, you can decorate it all with fairy lights.
You can attach them on the wall and let them fall vertically. In case you want to keep a dim atmosphere simply hang them in one of the corners.
You can attach fairy lights around the frames of your paintings, or pictures on the walls. It will make them stand out and bring a great boho feeling.
Turn any empty bedroom wall into a beautiful gallery display of your favorite prints or photos. 
This is a lovely way to keep some of your best memories alive with the people you loved the most.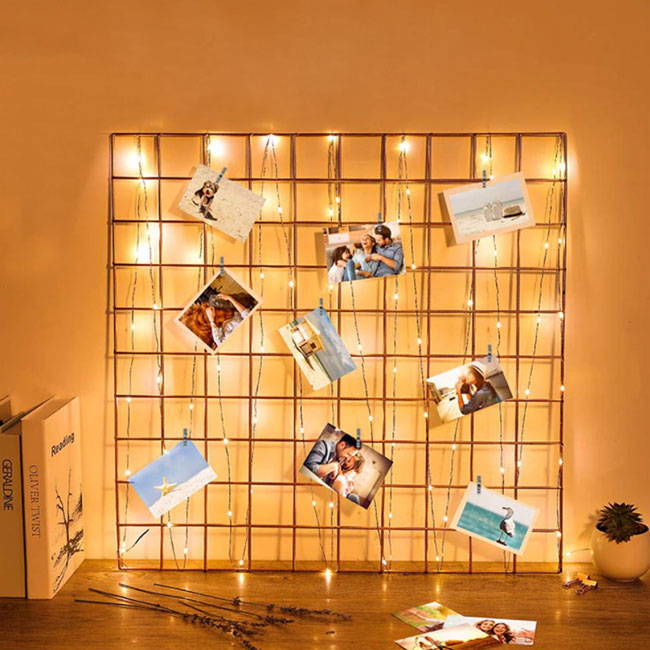 Fairy Lights Curtains
Bring more delightful moments into your bedroom with a fairy lights curtain. Curtain fairy lights can be used on any wall or on top of your curtain, to create stunning cascading waterfalls of light.
They make your bedroom more appealing, romantic, and cozy. Keep the magic of Christmas feeling every day, and enjoy the warm lights.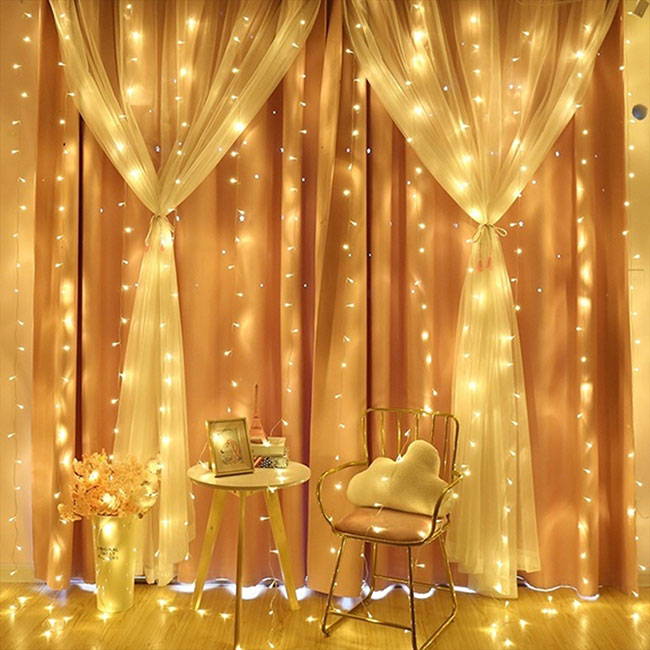 Wine Bottle Fairy Lights
A glass of wine melt the stress away. So imagine how relaxing would it be to have an empty wine bottle filled with the delicate light of fairy lights?
These fairy lights come attached to a wine cork and operated by battery - which means they can be used with any type of bottle.
Create a unique display in your bedroom that is sure to collect plenty of compliments from your guests.